September 2, 2017, 11:00am to 5:00pm
Rossi Farms, NE Portland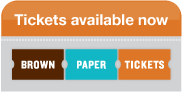 The Oregon Fermentation Festival is a family-friendly, day-long outdoor harvest festival of fermented foods and beverages. Now in its third year, it is the biggest fermentation festival the Pacific Northwest has ever seen!
Featuring:
A Makers Marketplace showcasing the Pacific Northwest bounty of local foodmakers and brewers, with lots of samples and swag
Ambrosia Garden (21+) featuring local and regional fermented beverages such as cider, mead, beer and wine
Kombucha Kompetition- a "healthy" competition featuring local and regional probiotic beverage makers
Do-It-Yourself Pickling stations where you make and take home your own jar of pickles!
Workshops and presentations given by local and regional fermentation experts covering how and why to make and eat fermented foods and beverages
Live Music and Entertainment
More details about the 2017 Festival coming soon!